CO2 Performance Ladder Level 3
Sustainability and CO2 consciousness is paramount to AVG Management. For this reason, we have decided to obtain CO2 Performance Ladder Level 3 and thus acquiring a better insight in our CO2 emission. With this insight, we can take targeted measures and set objectives that result in lower CO2 emission. The CO2 Performance Ladder requests insight in our corporate CO2 emission. The documents on this page provide a semi-annual insight in our CO2 footprint, objectives, measures and news releases.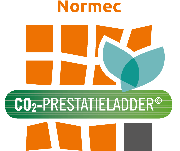 A. Insight
AVG Management has converted its own energy consumption to CO2 emission in order to obtain a better insight in the CO2 emission per energy flow. This consists of the following energy flows:
Gas consumption
Fuel consumption
Electricity consumption
This CO2 emission insight enables us to formulate effective objectives.
B. Reduction
AVG Management has set the following goal with regard to CO2 reduction: A 7% CO2 reduction from 2016 to 2020 (scope 1 & 2). These reduction objectives and associated measures are drafted in order to effectively reduce CO2 emission.
C. Communication
The AVG Management communicates publicly every six months, providing an update on CO2 reduction and commitment to its objectives.
D. Participation
The AVG Management actively commits to initiatives to reduce CO2 within or outside the sector. Currently this is the Foundation CO2-Neutral Netherlands. For more information on this initiative, please visit: http://nlco2neutraal.nl/.
More information on the CO2 Performance Ladder? Please visit the website of the foundation for climate-friendly contracting and entrepreneurship (SKAO).
Download the following documents with regard to the AVG Management CO2-reduction policy: